May 29th, 2010 | 2 Comments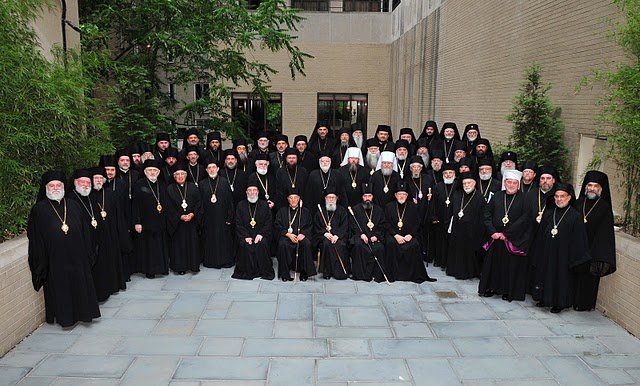 As many of you are aware, we have been praying in church over the past few weeks for the Assembly of Orthodox Hierarchs this week in New York. That meeting has concluded with a message from the Assembly (read it here) and the formal establishment of an American "Episcopal Assembly" which will take over the work of SCOBA (www.scoba.us), The Standing Conference of Orthodox Bishops in the Americas – this work includes oversight of the Orthodox Christian Missions Center, International Orthodox Christian Charities, the Orthodox Christian Fellowship (campus ministry) and more). If you are interested, please do give it a look.
Many of the speeches given by various hierarchs are available online, including:
Archbishop DEMETRIOS (Greek Orthodox Archdiocese)
Metropolitan PHILIP (Antiochian Archdiocese)
Archbishop NICOLAE (Romanian Archdiocese)
Archbishop JUSTINIAN (ROCOR)
Photos are on Facebook (public access) here.
My friend, Fr. Hans Jacobse, had this to say about the meeting:
Putting aside all the speculations about where the American Church is headed for the moment, think about the true significance of the meeting. All in all, this is a very constructive event regardless of the divisions that exist. The divisions are real, but clearly the need to transcend those divisions is more pressing and that is a cause for optimism, even hope. We are seeing the self-identity of the Church in America emerge, and a critical step in that growth is that bishops get to know each other, learn how to work together, perhaps discover similar concerns and worries, and maybe, just maybe, discover they are more unified in purpose and intention than they previously knew.

How will it end? We don't know, but we do know this: That the Bishops even met can be counted a success… American Orthodoxy can be a dynamic force for bringing Christ to the culture and once the nascent creativity of the people of God is unleashed, we might look back as this meeting as a milestone on that journey.
Another friend, Fr. Andrew Stephen Damick, was present at the Assembly and has published his reflections here.