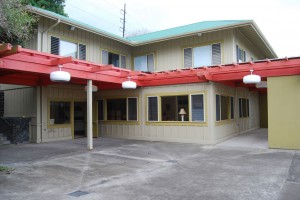 Our regular services are:
Great Vespers, 6:00 pm Saturday

Divine Liturgy, 10:00 am Sunday, followed by a potluck fellowship meal
Currently scheduled exceptions to this schedule:
Sunday Reader's service · No Saturday Vespers
Fr. John is scheduled to serve at Holy Ascension in Honomu — 28-1678 Old Mamalahoa Hwy, 96728 (View map) — on:

Also:


October 8 - Reader's service in Kona; No Saturday Vespers
If you are vacationing or spending time on the Big Island of Hawaii, please join us for worship and fellowship. We'd love to see you!
Special services and other events are generally announced by email and on Sundays. If you would like to confirm what is happening at any particular time, please don't hesitate to contact us.
Kona Location
We meet at "Hualalai Gardens" at the Palani Junction, 74-4820 Mamalahoa Hwy. From Palani heading mauka (up-mountain), turn right at Mamalohoa Hwy, and take the first right. (The address is Palani, but the entrance is on Mamalahoa.)
Directions
Our services are held at a penninsula of land at the intersection of Hwy 190 (Palani Rd) and 180 (Mamalohoa Hwy). We meet in the low-profile building on the site—it doesn't look like a typical church.
FROM DOWNTOWN KONA: Travel up Palani Road about 4 1/2 miles. Make a right turn onto Mamalahoa Hwy. (you'll see a sign that says, "To Route 180 / Holualoa"). Turn into the first driveway on your right.
FROM THE AIRPORT / NORTH: Travel about half a mile south of the Kona airport, and take a left at the next intersection (Kaʻiminani). Travel mauka (uphill) about four miles until you reach the top. At the "upper road," make a right, turning onto Hwy 190, and travel about 2 miles. The first light you come to is Hina Lani Rd. Go through the light, and takr the first left on to Hwy 180 (Mamalohoa). Turn into the first driveway on your right, just around the sharp bend—it sneaks up on you!
Here's a map:
A note for Visitors
If you are new to Orthodoxy, just curious, and want to stop by please do come. Our community enjoys meeting new people, and talking story over a cup of coffee and some food after our Sunday services.
Many people have found Frederica Matthewes-Green's article "12 Things I Wish I'd Known..." helpful. It's written for people visiting an Orthodox church for the first time.
Don't be worried about not following along with the practices of the community. It's fine just to come and observe.
One important thing to know is that the Orthodox Church does not practice what is sometimes called "open communion." We ask that if you aren't Orthodox, you not approach the chalice for Communion. Don't be surprised, however, if you're offered some blessed bread, called "antidoron,"  which is an expression of our hospitality.
Baptisms & Weddings
From time to time, visitors to the Island ask about baptisms and weddings. We are generally happy to provide this as an extension of the life of your local parish and with the blessing of your parish priest. Please contact us for more information.
There is no charge for sacraments, although donations are appreciated.